You can reach us here...
Lehigh University
Department of Bioengineering
Department of Chemical and Biomolecular Engineering
Mountaintop campus, Iacocca hall, 3rd floor, D316
111 Research Dr. Bethlehem PA, 18015 USA
+1 610 758 2878
jbucetaATgmailDOTcom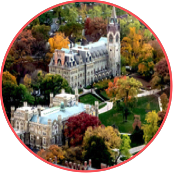 Lehigh University
Lehigh university is an American private research university in Bethlehem, Pennsylvania. It was established in 1865 (same year as Cornell U.) by businessman Asa Packer. the university had ~5K undergraduate students and ~3K graduate students.
Lehigh is considered one of the twenty-four Hidden Ivies in the Northeastern United States. we are currently tied in the rankings with UC Davis, Villanova, and the university of wisconsin-Madison. Lehigh has four colleges (so far...): the P.C. Rossin College of Engineering and Applied Science, the College of Arts and Sciences, the College of Business and Economics, and the College of Education. Soon Lehigh will also have a College of Health...stay tuned!
Lehigh has produced Pulitzer Prize winners, Fulbright Fellows, members of the American Academy of Arts & Sciences and of the National Academy of Sciences, and National Medal of Science winners. You can find out more about Lehigh in the following link: